Each month we select a Cappuccine partner to highlight.
We give them the spotlight to share their story and what works for them.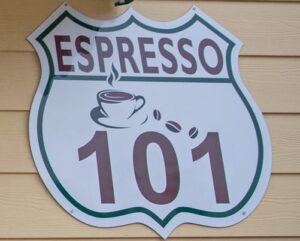 Tell us about Espresso 101.
• Espresso 101 began in an 8 by 12-foot building in 1993 in Waldport Oregon. It was the second drive-thru Espresso business in Lincoln County in the days that a brewed cup was about .65 in a restaurant. Many local people shook their heads in disbelief that anyone would pay $1.00 for a cup of coffee. Within two years we grew and were able to have a bigger building. I took my baristas to Coffee fest in Seattle in 1996 I told everyone goes see what you'd like to see but our goal is to find the very best frappe mix. It was unanimously voted that Cappuccine was the BEST !! We used the latte version and added syrup flavors in those days. It's amazing how the industry has changed in many ways. In those days cold drinks were maybe 10-20 percent of our total drinks. In 2019 it is more like 40 percent. I sold this business in 2007 and missed the business so much that I re-purchased Espresso 101 to who I had sold it to in 2015. I so much appreciate Cappuccine's quality products and especially their blender program which I haveused twice since 2015. It allows small businesses to have excellent equipment. The coffee business is avery fun business to be in and quite honestly a lot of relationships are built because a lot happens at thedrive-thru window besides making coffee. How a person's day is started is important.
What percentage of your business are beverages?
• 95%
How many Cappuccine flavors do you offer and which sell best?
• We use 11 different flavors of Cappuccine. The most popular flavors are the Mocha and the White Chocolate Symphony and Caramel Latte.
If you have any, can you share your recipes?
• Our most popular drink is a blended white chocolate milky way mocha of course using the white chocolate symphony frappe mix with our own caramel sauce. Also the blended caramel macchiato we split the vanilla and the caramel frappe mix.
What would you like people to remember about Espresso 101?
• I would like people to remember that we served a quality product that tasted amazing and we
treated our customers as a special guests that they are.
Blender Packages
Get up to 15 FREE bags of product with blender
Retailer Spotlight of the Month
Tell us why your business should be the Cappuccine Spotlight of the Month. If chosen your store will be featured and you'll win a free case of your favorite cappuccine mix.