Each month we select a Cappuccine partner to highlight.
We give them the spotlight to share their story and what works for them.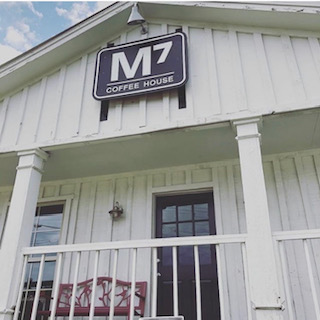 Location: 111 N Wheatley St, Ridgeland, MS 39157, United States
Facebook Page: www.facebook.com/M7Coffee/
Phone Number: +1 601-790-7971
Tell us about M7 coffee.
• We are a family owned small business that uses local suppliers for our shop. We use local flower farmer, honey farmer, bread maker, roaster, and vegetable farmer. We also support local musicians and artists.
What percentage of your business are beverages?
• 80%
How many Cappuccine flavors do you offer?
• We offer pistachio and red velvet.
Which are your best selling Cappuccine flavors?
• Both these flavors are doing great!
How did you discover Cappuccine?
• We had a regular customer come in that had been to Bitter Sweet Coffeeshop in California and he told us about the red velvet latte. We called them and they told us about you guys.
Do you sell baked goods? If so, can you share your favorites?
• We made homemade scones which are a fan favorite.
What would you like people to remember about M7 Coffee?
• That we are more than a coffee shop, when people come in to our shop they get a family friendly experience. It's a real community , where people of all ages including families are always welcome.
Blender Packages
Get up to 15 FREE bags of product with blender
Retailer Spotlight of the Month
Tell us why your business should be the Cappuccine Spotlight of the Month. If chosen your store will be featured and you'll win a free case of your favorite cappuccine mix.