Each month we select a Cappuccine partner to highlight.
We give them the spotlight to share their story and what works for them.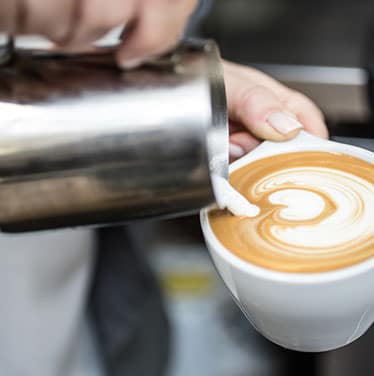 Location: 1616 National Ave, San Diego CA 92113
Website: https://www.cafevirtuoso.com/
Number: (619) 550-1830
Tell us about Café Virtuoso
Founded by Laurie Britton in 2008, Cafe Virtuoso is a 100 percent certified organic specialty coffee roaster and cafe based in San Diego.
The vision from day one: To procure the highest quality organic specialty coffee and tea while remaining ethically invested in full-scale sustainability and socially responsible practices. This vision also led to Cafe Virtuoso's commitment to the success of its wholesale partners, including restaurants, casinos, hotels, and more, by providing the highest standards of detailed personalized service, extensive ongoing training, and education.
Cafe Virtuoso has set its model in all manners of operation to match and exceed those of the Specialty Coffee Association (SCA), the world's largest coffee trade association formed with the purpose of establishing the de-facto benchmarks for quality and consistency in the global specialty coffee industry.
What percentage of your business are beverages?
Our cafe, located next to our roasting facility, serves espresso drinks, pour-over coffees, teas, iced and blended drinks, as well as freshly baked pastries, empanadas, and various grab and go snacks. Approximately 90 percent of the business is beverages.
How many Cappuccine flavors do you offer?
We sell 13 different flavors to our wholesale customers and four flavors in our cafe used in a variety of our specialty drinks.
What are your bestselling Cappuccine flavors?
For our Cafe, it is tied between Chocolate Decadence and Spiced Chai. Those two flavors are also tied in sales from our wholesale customers.
How did you discover Cappuccine?
When planning our product line for wholesale customers before the business officially began, we discovered Cappuccine in market research and found it to be the best mix out there providing quality, great taste, and versatility of use for a number of types of beverages.
Do you sell baked goods? If so, can you share your favorites?
Yes, we source our baked goods locally from Hommage Bakehouse. Our favorites are the Apple Butter Kouign Amann, maple pecan scone, monkey bread, and almond croissant. We also offer amazing authentic Argentine empanadas from another local shop called Empanada Kitchen. Our favorites and top-sellers are the Mushroom and Goat Cheese, Sweet Corn and Basil, Ham & Cheese, and the traditional Argentine beef.
What would you like people to remember about your shop?
From the coffee we roast to the people in our lives, we work tirelessly to maintain sustainable operations and build meaningful relationships. Our attention to detail, quality, and repeat customer satisfaction is most important to us. We carry out the highest standards for coffee preparation in our cafe, and because their success is our success, we also provide the same kind of guidance and expert training to each of our wholesale partners so they are able to serve the absolute best-tasting coffee to their customers as well.
What are some of your customers favorite drinks?
We have a wide range of customers from coffee purists to those with a sweet tooth Some of our top-selling drinks overall include our cortado and our large variety of pour-overs, especially our Ethiopia Shantewene and Guatemala Atitlan. Some of our most popular sweet drinks include the honey cinnamon latte, our classic mocha (using Chocolate Decadence), and our iced honey rosemary matcha.