Each month we select a Cappuccine partner to highlight.
We give them the spotlight to share their story and what works for them.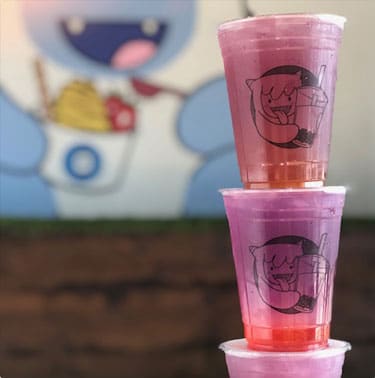 Tell us about Monsta Snow
We're a family-owned cafe specializing in boba tea drinks, Taiwanese-style shaved snow, and bubble waffles! Our specialty is creating drinks and desserts that showcase a fusion of Asian flavors with other countries.
What percentage of your business is beverages?
85-90%
How many Cappuccine flavors do you offer?
10+! We use most of them as-is, but we also love utilizing Cappuccine flavors and mixing them with other flavors or components to create something unique.
How did you discover Cappuccine?
Before we opened Monsta snow over 3.5 years ago, we got a bunch of different brands' samples from our supplier and tested them all side by side. Cappuccine's flavors, especially the coffee-based ones, were clear winners.
What are your bestselling Cappuccine flavors?
Cookies and Cream is the top seller by far, but Matcha Latte, Extreme Coffee Toffee, and Red Velvet are super popular, as well.
Do you sell baked goods? If so, can you share your favorites?
No, but we sell hot snack foods and made fresh-to-order Hong Kong bubble waffles!
What would you like people to remember about Monsta Snow?
The experience. We want everyone to leave happy and satisfied, but it means the most when customers leave with great memories. We want them to feel the love and personal touches we put into the store from the pretty colors and decor, our cute monster mascot to our friendly staff and consistent quality of our drinks and desserts.
What are some of your customers favorite drinks?
Our milk teas are our most popular category – the classics such as the house Black Milk Tea, Jasmine Milk Tea, Thai Tea, and Taro Milk Tea are the favorites. With boba, of course!
Blender Packages
Get up to 15 FREE bags of product with blender
Retailer Spotlight of the Month
Tell us why your business should be the Cappuccine Spotlight of the Month. If chosen your store will be featured and you'll win a free case of your favorite cappuccine mix.