Each month we select a Cappuccine partner to highlight.
We give them the spotlight to share their story and what works for them.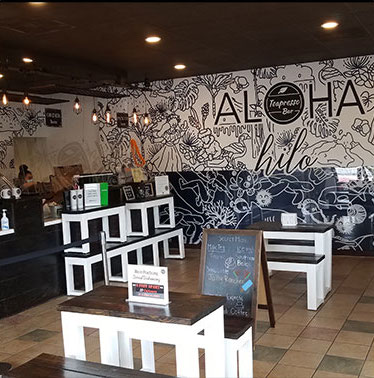 Tell us about Teaspresso Bar Hilo
• We're a locally owned/managed bubble tea store in the Teapresso Bar chain. Our store opened in December 2018 and immediately became the top and only high-volume store in the chain of +30 stores that includes Hawai'i, Washington, California, Texas and most recently Arizona. Our chain is best known for our high quality "brew-to-order" milk tea, coffee and tea beverages. We also serve blended drinks, many that now include Cappucine Flavors.
What percentage of your business are beverages?
• +96%
How many Cappuccine flavors do you offer?
• 10, and we'll be adding another 4 in the coming months.
What percentage of your customers are tourists vs. locals?
• Probably less than 3% are tourists.
How did you discover Cappuccine?
• Google, on a search for red velvet mixes for a Valentine Day beverage.
Do you sell baked goods? If so, can you share your favorites?
• We recently started to carry an "Ube Crinkle Cookie". Ube as a food product is recently very popular amongst the bubble tea and local community.
What would you like people to remember about Teaspresso Bar Hilo?
• Quality beverages served quickly by friendly baristas.
Do you have any Hawaiian themed drinks that you'd like to share?
• Lavaflow smoothies (includes fresh pineapples with strawberry walls); Blue Hawaiian Lemonade (organic lemonade, coconut flavor and Blue Curacao); Homemade Haupia Series (Haupia is a coconut-based sauce/dessert we cook in-house and available only at our store. We have a series of colorful frappes; a local favorite is Spicy Lihing Lava series of slushies that uses Mexican spices and a local asian plum flavoring.
Blender Packages
Get up to 15 FREE bags of product with blender
Retailer Spotlight of the Month
Tell us why your business should be the Cappuccine Spotlight of the Month. If chosen your store will be featured and you'll win a free case of your favorite cappuccine mix.