The Mexican food industry is a billion-dollar a year segment. Americans have fallen in love with this flavorful cuisine from the South. Mexican treats are catching up to Mexican main dishes in popularity.
Here is your chance to get ahead of this trend. Cappuccine has created a Horchata mix that you can make as a conveniently or as authentically as you like.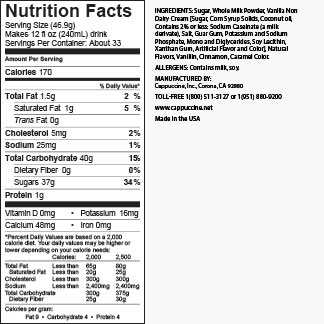 For more information contact: Toll-Free 1(800) 511-3127 or 1(951) 880-9200
Manufactured for Cappuccine, Inc., Corona, CA 92880. Product manufactured in a facility that also handles egg, wheat and peanut. Nutrition facts and ingredients subject to change without notice. Products may vary by region and country, consult product label for actual contents. Grams per scoop is an average and may vary depending upon ambient conditions and product compaction from transportation and/ or storage.
©2020 Cappuccine, Inc.
Additional information
| | |
| --- | --- |
| Package | One Bag (3 lbs.), One Bag (Wholesale), One Case, One Case (Wholesale) |